Recess#114  Pinhead Gunpowder-s/t 7″ (500 Blue-500 Green)Aaron Cometbus asked me to do some low-key shows for Pinhead Gunpowder in San Pedro back in Feb. Although they ended up not being so low key, there was a spirit about the shows that tugged on the locals' intimate sides. Sides you're lucky enough to see once in a lifetime. Tough wrestle boys singin' like birds, bad drunks bein' sincere, drama queens leaving their crowns at home, etc. Sometime during the weekend, they asked me to do a record of their new material. Some of my favorite songs by Pinhead Gunpowder to date! Here it is! First release in about 8 years!
Track Listing:1. West Side Highway2. Anniversary Song3. On The Ave                        
The Bananas-New Animals LP (Yellow vinyl!) finally out!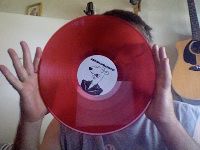 Screeching Weasel-Boogadaboogadaboogada LP back in print!  (Second press on glory filled pink vinyl)
Recess is now exclusively distributed thru No Idea!