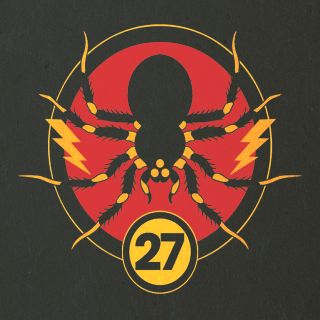 The Riverdales follow up last year's "Invasion USA" with "Tarantula," 30 minutes of their heaviest yet catchiest songs to date. Initially meant to be part of "Invasion USA," these tunes stood out on their own enough to be their own beast.
In these parts, RIverdales-Storm The Streets, is considered a cultish,godlike slab. Tarantula carries on with the great Foster/Schafer songwriting team. As well as being complimented with the Justin Perkins production. "12 to the Moon" was considered a classic weeks before release date. And if you wanna talk up the Ramones reference, well then we can clock in with this era's "Baby Sitter/Bonzo/Something to Believe In" via "Soultaker". I am comfortable saying that.
LP is packaged in a hefty gatefold (as well as limited colored vinyl)
CD sports the infamous digipak.
Both LP/CD are delayed until the 22nd (preorder now). Digital is available today!
Preview some tracks here!
Track listing
"Bad Seed Baby" – 1:46
"The Beginning Of The End" – 1:40
"Infection" – 1:39
"Diabolik" – 1:31
"Volcano" – 1:58
"The Girl In Lover's Lane" – 1:40
"Girls Town" – 2:06
"Soultaker" – 2:22
"12 To The Moon" – 1:46
"Crash Of The Moons" – 3:15
"Stranded In Space" – 2:18
"I Don't Wanna Live Forever" – 1:43
"Master Ninja" – 2:35
"Time Chaser" – 3:21