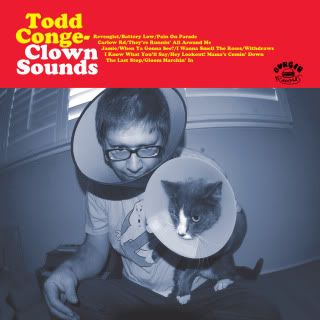 Good pals with labels i love have spent some hard earned cash on this stuff. We sell the LP HERE , the CASSETTE HERE, and the CD HERE:
Please support Burger, Small Pool, and Water Under The Bridge!
From Burger/Small Pool Records Website:
TODD CONGELLIERE – CLOWN SOUNDS (LP/CASS)
Todd Congelliere has been around. He runs Recess Records, was in FYP, Toys That Kill, Underground Railroad to Candyland, Stoned at Heart and probably a bunch of other bands that I'm forgetting at the moment! He is the man of his times. And now he brings us his first solo record, Clown Sounds! A solid rock n roll album from start to finish, this is one of punk's finest songwriters!
Tour! Todd C. and Audacity
Aug 15th Portland,OR at Smr Bmr
Aug 17th Olympia,WA at Craigs house
Aug 21st MIssoula,MT at Total Fest
Aug 23rd Red Bluff,CA at End Up Bar
Aug 24th SF,CA at The Hemlock
Battery Low by Todd Congelliere