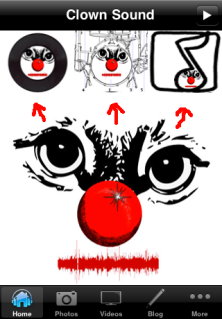 I'm lucky enough to spend 99.7% of my time playing music. I'm double lucky to be able to play in multiple bands with a heap of amazing people. I'm triple lucky that these amazing people also rule their instruments in a non-"I work at Guitar Center" fashion.
-Todd Congelliere
We record at our homegrown studio called Clown Sound and release it through our label, Recess Records. Band's and projects involved include:
1) The Underground Railroad to Candyland
2) F.Y.P
3) Toys That Kill
4) Stoned At Heart
5) Audacity
6) Treasure Fleet
7) Recess Pody Cast
and more, including solo projects from involved members.
This app streamlines all these projects and Clown Sound happenings so you, and we, know what's goin on.
You get privy to:
1) Shows
2) Stream EVERYTHING recorded at Clown Sound right on yer phone. And if you really like it, you buy it…right? RIGHT?!
3) Demo's-fresh with sweat still on 'em
4) News updates in real time. When was the last time something happened to you in "real time"?!
5) Recording tips from self-admitting non-professional's who understand that professionalism kill's good songwriting.
6) Exclusive content,like video of practice and recording sessions in Clown Sound. Ya know? Like stuff that'll save your life. Because it's exclusive.