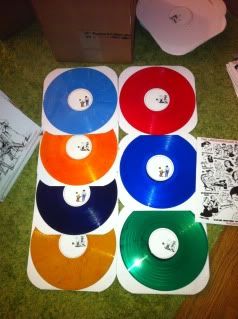 URTC-Knows Your Sins vinyl
7 Deadly Sins Vinyl Editions:
1) Green (Envy)(Transparent) 108 (Thru Recess-No longer available)
2) Red (Anger)(Transparent) 311 (Available now-Stores/Mailorder)
3) Light Blue (Sloth)(Opaque) 53 (Available 4/29 at San Pedro Show-Sunken City)
4) Orange (Gluttony)(Transparent) 40 (Available thru No Idea Records)
5) Yellow (Greed) (Opaque) 65 (Available 4/30 at San Diego show-Bar Pink)
6) Violet (Pride) (Transparent) 61 (Available 5/7 at LA show-Pehrspace)
7) Blue (Lust) (Transparent) 63 (Available thru No Idea Records)
4/30 is an ID show so if you want one just meet us outside. All other shows with these offers are all ages. After these are gone all future pressings will be on beautiful black.