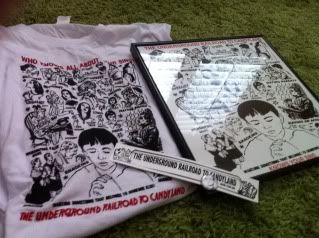 I made a deal with myself to have a strict colored vinyl code with Recess. I said "first press is 300 colored vinyl and all future pressings will be the past industry standard of black! NO EXCEPTIONS!!". Then an idea popped in my head to do 7 different colors for The Underground Railroad to Candyland-Knows Your Sins LPs. WHA?! Bare with me please. Each color would represent the color associated with the 7 deadly sins. That's an exception that can combat the NO EXCEPTIONS clause right? Well it beat the hell outta it and we had to do it. Hence:


1) Green (Envy)(Transparent) 108 (Was only available thru Recess mailorder only)

2) Red (Anger)(Transparent) 311 (Available now-Stores/Mailorder)

3) Light Blue (Sloth)(Opaque) 53 (Was only available 4/29 at San Pedro Show)

4) Orange (Gluttony)(Transparent) 40 (Available thru No Idea Records)

5) Yellow (Greed) (Opaque) 65 (Was only available 4/30 at San Diego show)

6) Violet (Pride) (Transparent) 61 (Was only available 5/7 at LA show)

7) Blue (Lust) (Transparent) 63 (Available thru No Idea Records)


ALL 7 LP's COME WITH COVERS,INSERTS,DOWNLOAD CODES


It all worked out sooo great! My awesome pressing plant did runs as low as 40, only to make it more collectible and not break the bank on my end and the plan worked…or so it seemed. Loyal fans got irritated, which is somewhat understandable, as they couldn't get certain colors due to their geographical locations. We caught wind of this before we offered all of them at the shows etc, so we saved roughly 10 of each to bring you THE 7 DEADLY SINS BOX SET! Very thoughtful huh? Purchasers of this will get all 7 sins vinyl!

But WAIT! There's more!


Always wanted to pull that one! But there really is more. You will also get:



A test pressing of said LP. Yes, limited to 18! A Knows Your Sins Test pressing. Giving you yet one more copy to listen to the same album!

9) URTC-Knows Your Sins T Shirt. Wear this outside your home to show everyone how serious you are about this deal. YOU get to do the teasing now!

10) A framed LP cover of said album. These aren't four popsicle sticks glued together with spam neither. These are nice glassed frames. When friends are over just point to the wall where you mounted this bad boy and say NOTHING!

11) A URTC poster. Doesn't make or break the deal but doesn't hurt it neither right?

12) A URTC button/badge/pin…whatever you call em! Special one just for this! I'm talking only one made for each separate box!!

13) A URTC sticker. Ok yea maybe its such a small thing that we shouldn't even count it. We can take it out if ya wanna be like that?!?


There will only be 10 of these box sets for sale!! And you get FREE SHIPPING within the USA!